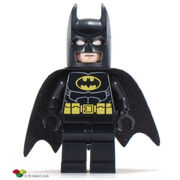 Batman (alias Bruce Wayne) is a Batman and Super Heroes minifigure based on the super hero from the DC Comic Universe. He originally appeared with two variations in 2006, one in 2007, and one in 2008; being the original suit, 1989 film suit, classic suit, and 2008 film suit, respectively. An exclusive new variant was given away at Comic-Con in 2011 as a preview to the upcoming Super Heroes theme. This new theme also features two new Batman comic suits, his blue 1960's suit and his 1990's black suit, and an Ultrabuild Constraction figure. 2013 expanded further upon Batman's depictions with suits based on The Dark Knight Rises in addition to his Arctic camouflage and his black 2012 suit with the moulded black wings. Batman's first Microfigure was also released in 2013. 2014's known variants include a suit based on the Beware the Batman TV series, a brighter version of the blue Super Heroes suit, and a Scuba suit. In 2015, new variants of Batman released included his Space Suit and his New 52 suit. In 2018, a new varient is set to be released representing his Rebirth suit.
Appearances
Edit
Video Game Appearances
LEGO Batman: The Videogame
LEGO Batman 2:  DC Super Heroes
LEGO Batman 3: Beyond Gotham
LEGO Dimensions
Ad blocker interference detected!
Wikia is a free-to-use site that makes money from advertising. We have a modified experience for viewers using ad blockers

Wikia is not accessible if you've made further modifications. Remove the custom ad blocker rule(s) and the page will load as expected.